Elizabeth Morgan Goes Rogue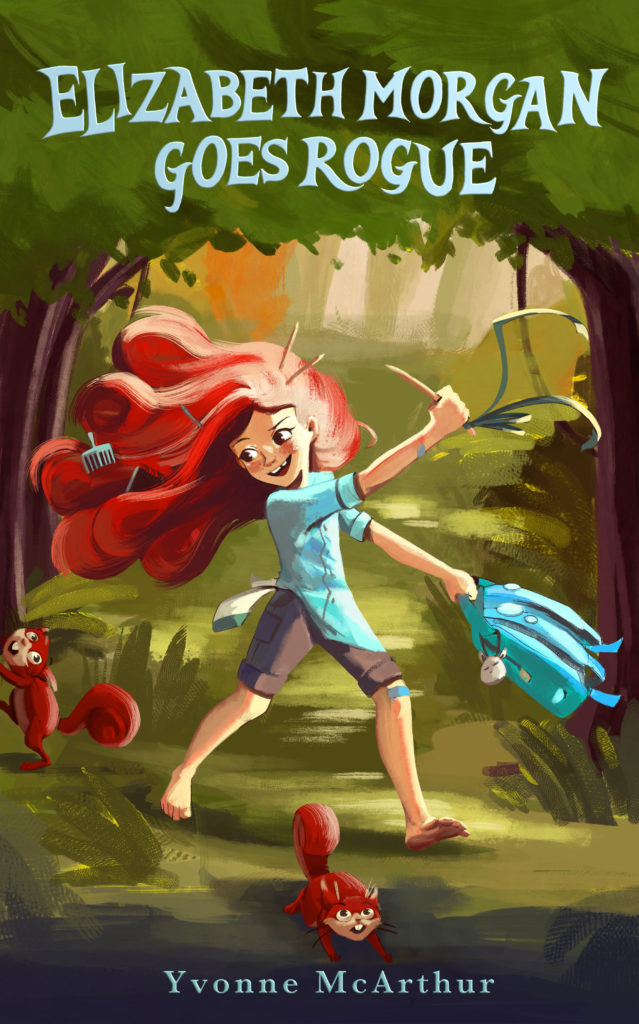 Eleven-year-old Elizabeth Morgan is SICK to DEATH of eating oatmeal for breakfast, wearing closed-toed shoes, and always doing the practical thing. She's so fed up that one morning on her way to the bus stop, she vows to never be practical again.
Elizabeth turns her shirt inside out, tosses her shoes into the shrubs, and demands that her best friend Melissa call her "Twigs" from now on. Melissa is a bit shocked, and then shocks herself and Elizabeth further by suggesting that the MOST impractical thing would be to not go to school at all.
Then the bus honks its horn right around the corner and things get a little squirrely for a while.
Elizabeth and Melissa learn some things they never knew about their mothers, make some decisions they never thought they'd make, and end up in the woods armed only with their backpacks, their wits, and dreams of adventure.
Bears, tin cans, ruffians, and the wild beauty of nature await.
Where is it in the publishing process?
Seeking an agent/publisher.
If you love fun, witty adventure stories with spunky main characters, you'll love Elizabeth Morgan Goes Rogue.
Get notified of publishing dates and other Elizabeth Morgan Goes Rogue news.
Read a short excerpt:
"Impractical, impractical," Elizabeth muttered, "only take the watermelon eraser, don't take pencils to school, don't take pens, or paper…"
"Why take a backpack?" asked Melissa. As soon as the words were out, she gasped and covered her mouth.
Elizabeth beamed. "Brilliant!" She scooped her backpack into her arms, trotted to the edge of the road, and threw it into a clump of grass.
Praise for Elizabeth Morgan Goes Rogue
The writing style was delightful and the two main characters were perfect… plucky and child-like in the best ways, but not overly naive or unbelievable. Their friendship and back-and-forth was so fun.

Lauren Q.
It had us shrieking with laughter, so that was GREAT!!! Even though I'm not in the target age group, I still found it amusing to read as a family.

Gigi, age 13
It made me laugh basically throughout the whole story. The vocabulary was awesome (I love to read, and in comparison to many books, Elizabeth Morgan was far more 'vocab-inspiring').

Bella, age 11
I loved it. I have read a lot of books and this one is in my top 10 list.

Nia, age 8
Great for fans of Astrid Lindgren, Shannon Hale, and Angelica Banks, or for readers who've grown out of Judy Moody and Ramona Quimby.